Celebrate Your Achievements with Corporate Annual Day Events
We, Eventra Media Pvt Ltd, your trusted partner in delivering
captivating & seamless corporate annual day events, curating unforgettable event experiences that leave a lasting impression on your audience. Our team of experts is dedicated to transforming your vision into a reality, ensuring that it reflects the essence of your brand & resonates with your attendees and employees, whether you're planning an R&R event  or a grand-scale concert.
Tailored Annual Event Solutions
passion for creating best annual day events that resonate with your audience, elevate your brand presence, and leave a lasting impact on all attendees. Our creativity, attention to detail, & dedication ensures an extraordinary & unforgettable concert for everyone involved, aligning with your company's values & vision.
Venue Selection and Production
Selection of a perfect venue to cater to your vision of a perfect an annual event is crucial. We scout & evaluate various venues to select the ideal setting that complements your concert's theme & accommodates your expected audience size. Moreover, we look over all the production aspects, including stage setup, sound & lighting, and special effects, ensuring a smooth operation throughout the event.
Artist and Performer Management
Our vast network in the entertainment industry allows us to book the top-tier artists & performers that align with your event's theme & atmosphere. We have performances ranging from renowned bands, solo artists, dance groups & acrobatics to dynamic entertainment acts. We handle all aspects of artist management to ensure a seamless performance that captivates your attendees.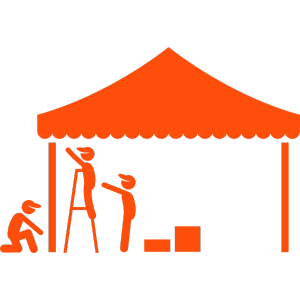 Event Production
Our dedicated event coordinators ensure smooth operations during the concert. We manage every aspect of the concert, from managing backstage logistics & led screen to coordinating artists, to ensure a flawless & stress-free event day
Pre-Event Branding & Event Hype
The branding efforts before a corporate event are crucial, in creating the atmosphere and building anticipation among attendees. It entails creating an consistent identity that reflects the companys values and captures the essence of the event. This involves designing a logo selecting a color scheme that aligns with the brand and developing cohesive promotional materials, like banners, invitations and social media graphics. The objective is to establish an memorable brand presence that not generates interest but also conveys professionalism and organization. 
Audience Engagement
In the dynamic landscape of corporate events, leveraging technology for audience engagement has become indispensable. Incorporating interactive tools such as led bands, event apps, live polls, and virtual Q&A sessions can transform a passive audience into active participants. These technological features not only facilitate real-time interaction but also provide valuable insights into attendee preferences and sentiments.